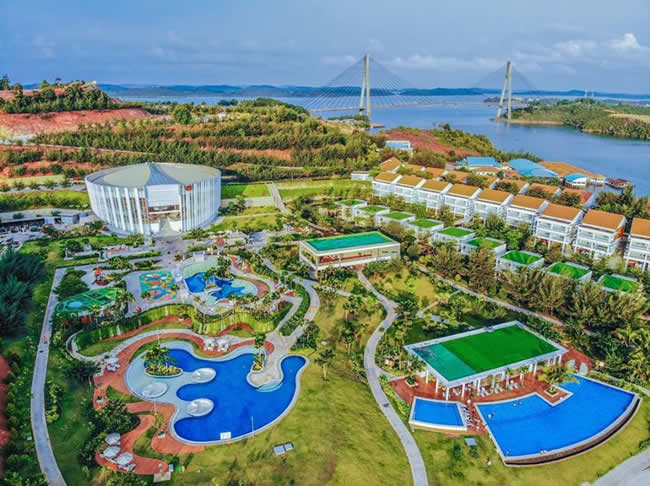 (Harris Resort Barelang)
Harris Resort Barelang is a new resort in Batam. Recently opened on Jan 2018, the resort is located near the famous icon of Batam, Barelang Bridge I, about 30 minutes drive away from Batam Center Ferry Terminal.
Harris Resort Barelang embraces the concept of business, leisure, and healthy lifestyle with complete facilities to ensure a comfortable stay. There are plenty of activities available in the resort to enjoy with your travel partner as well.
Getting to Harris Resort Barelang
From Singapore, you can take ferry from Harbourfront Ferry Terminal to Batam Center Ferry Terminal. Upon arrival in Batam, you can take a cab or join the resort shuttle to be transported to the resort.
Harris Resort Barelang Batam provides free shuttle service to and from Batam Center Ferry Terminal, below are the shuttle timing for your reference:
Batam Center – Harris Barelang : 13.00, 15.00 (Everyday), 17.00 (Fri, Sat, Sun only)
Harris Barelang – Batam Center : 12.00, 14.00 (Everyday), 16.00 (Fri, Sat, Sun only)
Look for staff bringing Harris Signboard to book for the land transfer seat upon arrival. While waiting for the shuttle, you can cross the pedestrian bridge to the Mega Mall for some shopping or meal.
A bit tips for you, if you are planning to just be lazy and chill in the resort during your stay then you should definitely do some shopping before catching the shuttle. As the price in the resort mini mart might be a bit costly and the closest mall to the resort, Kepri Mall, is around 25 minutes away.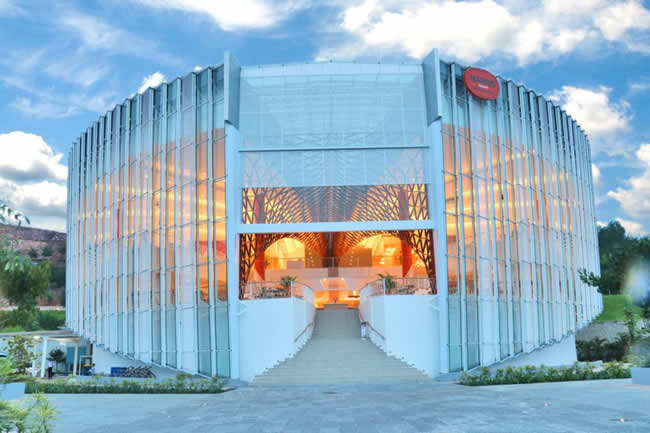 (Main Building)
Upon Arrival
Arriving at the Harris Resort Barelang, you will be welcomed by the grandeur of the futuristic designed lobby.
The whole building is designed like a glass house with a panoramic sight of the clear sky and vast sea that without doubt will instantly boost your mood.
Complemented with the big smile of the friendly staff and efficient service promising an enjoyable experience during the time you spent with them. While the staffs are arranging for your check in, take your time to appreciate the beautiful view and refreshing welcome drink.
After finishing check in procedure, there will be buggy arranged to take you to your unit. The accommodation in Harris Resort Barelang is more like a chalet type so the rooms are not in the same building with the lobby.
Take note that buggy arrangement is only available for check in and check out. Therefore, during your stay there will be plenty of walking, fit the hotel concept for healthy lifestyle, you can have a light exercise whilst enjoying the view. There is an exception for visitors who are traveling with kids and elderly though.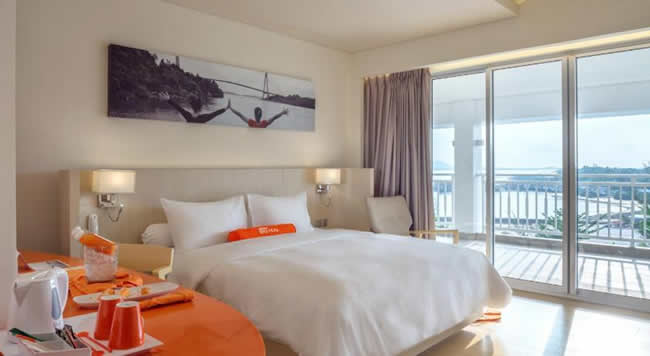 (Harris Room)
Rooms
There are several types of room in Harris Resort Barelang. Harris Rooms are their standard room type, the 33 square meters spacious rooms are divided into Harris Room Sea View, Harris Room Pool View and Harris Room Garden View.
The rooms took orange and white as the theme color, the moment you step into the room you will feel the bright and relaxing vibe. All rooms have great view, sitting in the spacious balcony accompanied by the breeze and beautiful sunset view will be a nice evening relaxation.

Other than Harris Rooms, there are Harris Suite and Harris Villa, which has 2 bedrooms in the unit. There is a living room in Harris Suite for gathering time. Harris Villa, aside from living room is also equipped with a kitchen and private pool.
All rooms, suites, and villas in Harris Resort Barelang are adorned by 42" Smart TV with many channel, IDD telephone line, safe deposit box, minibar, coffee & tea making facilities, hair dryer and wardrobe with set of hanger.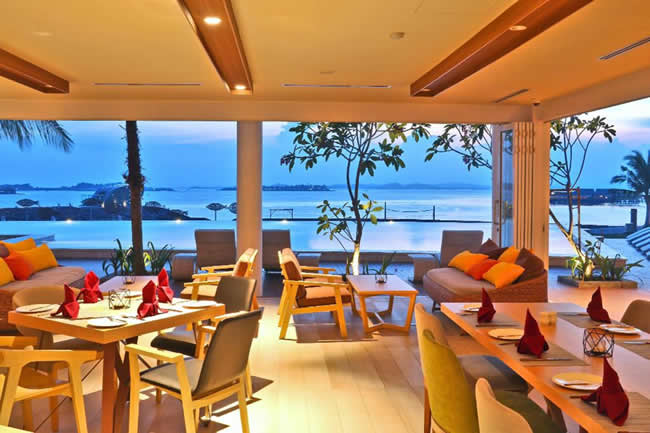 (Rocksalt Beach Club)
Dining
Dining at Harris Resort Barelang could be an exciting experience, as you have quite some choice to dine in the resort restaurant. Firstly, in the main building where the lobby is, there are Juice Bar and the Harris Café where breakfast is served from 06.30-10.30 AM, vast choice of foods are ready for you to savor for breakfast before starting your day.
Near the kids pool, 20 Feet Snack Bar is ready to serve you some snack to recharge your energy while enjoying the swimming pool and other facilities.
Ti Punch Bar and Rocksalt Beach Club is a good choice to stop by after visiting at the white sandy beach. Go to Ti Punch Bar for some cocktail by the beach and have a fulfilling meal at Rocksalt Beach Club.

The only problem is resort restaurant might be a bit pricey if you are in a budget. But, don't panic you can turn to local seafood restaurant around instead.
The closest one will be Barelang Seafood Restaurant which is just next door. You can ask the resort buggy to bring you there. The restaurant has gathered many good reviews from visitors for their plentiful tasty seafood.
Other nearby restaurants is Kopak Jaya Restaurant and Kelong Seafood 188 which is around 5 minutes drive away. The hotel staff can arrange for taxi or car rental service for you.
As a reminder, the resort does not allow food and beverage delivery from outside, so Go-Food and Grab-Food services cannot be used here.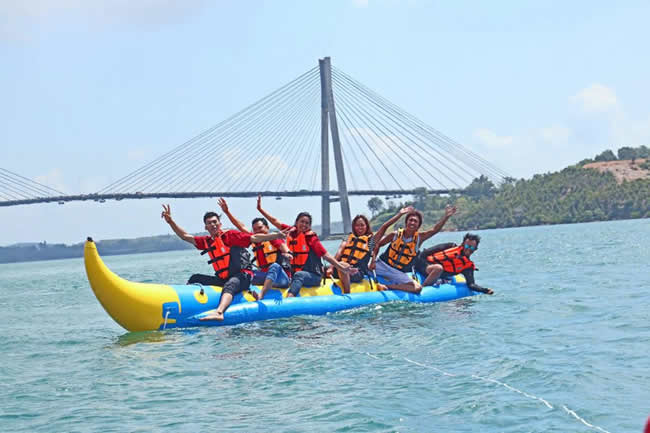 (Water Sport Activities)
Facilities & Activities
Harris Resort Balerang prepared plenty of facilities and activities to keep you from feeling bored. They have 4 pools for adults and kids to swim or just soak in.
On the other hand, Aramsa Spa and Massage provide variety of relaxing treatment and there is also a gym for those who prefer exercising to relax.
Traveler with kids will definitely love the kids playground and Dino Kids Club where the kids can play to their heart content. Hire a nanny at child care service to get some me time with your spouse.
Plenty of other fun and leisure land and water activities such as ATV ride, kayaking, jet ski, banana boat and many more are also available waiting for you to explore.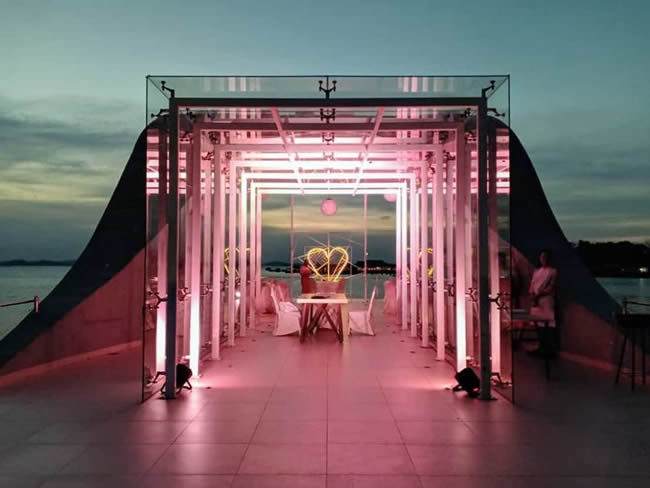 (Bay House | Photo credit
@lihat.headquarters
)
When you are at the beach, take some time to visit the beautiful Bay House. The wedding chapel is built at the shore overlooking the ocean and Barelang Bridge offering a spectacular view for photo taking. If you are planning your wedding or other event, you can put this place in your consideration list.
Our suggestion for those who plan to visit Harris Resort Barelang is to stay for 2 nights. Join the city tour when you arrive, then enjoy and relax at the resort on the second day before going back to your busy life.
You can check our 2D1N Harris Resort Barelang Tour Package with extension night and plan your trip with us.