Top Batam Shopping Malls and Hotels Nearby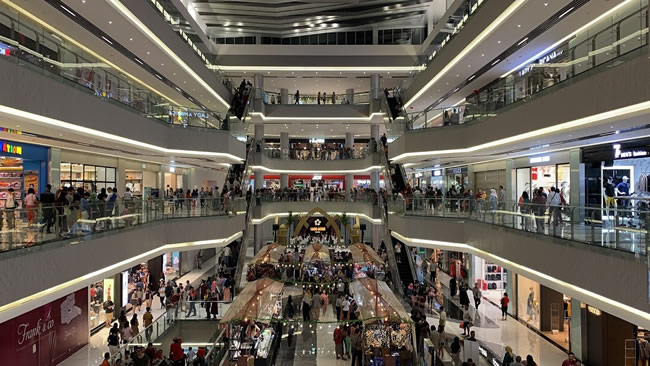 (photo credit Grand Batam mall)
Grand Batam Mall
The newly opened Grand Batam Mall, claimed to be the most luxurious and modern mall in batam which covers aproximately 80.000 square meters.

The mall is located in the Penuin Area, near to the i Hotel Baloi, 89 Hotel and BCC Hotel.

You can find anything you could possibly need in the Grand Batam Mall. The 5 floors mall house supermarket, shops, restaurants, cinema, beauty salon, and arcade, offering endless excitement and entertainment.

There are many luxurious brand available in the mall which you cannot find in other mall. Foodies will also be pempered with many choice of restaurants.

At the ground floor, there is Top 100 supermarket where you can shop for grocery stock with relatively cheap price. Couples who wanted to spend time here can watch a movie and dine together within the mall.

Grand Batam Mall has complete facilities with 2 mushola, whell chair rental and baby stroller rental, providing comfortable shopping experience to their visitors.


Nearest hotel within walking distance:
Hotel 89, Aston Inn Gideon Hotel, Batam City Hotel, i Hotel Baloi, The BCC Hotel, Swiss Inn

Nearest Hotel by taxi:
Travelodge Batam, Pacific Palace Hotel, Planet Holiday Hotel, Swiss Belhotel Harbourbay ~ 10 mins
Harris Hotel Batam Center, Harmoni One, Sahid Batam Center, Radisson, Best Western Premier ~ 20 mins
KTM Resort, Holiday Inn Batam Resort, Harris Resort Waterfront ~ 30 mins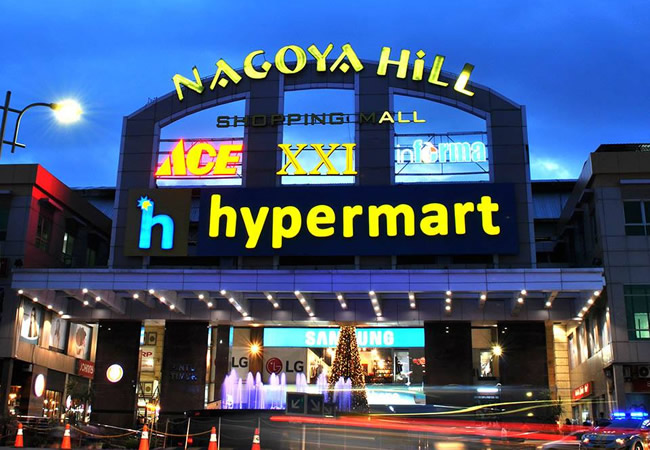 (photo credit facebook @nagoyahillshoppingmall )
Nagoya Hill Mall Batam
Nagoya Hill Shopping Mall or some refer to it as the Nagoya Hill SuperBlock. No, the mall is not located on top of a treacherous hill, so there are no hill or steep slopes to climb to reach this mall. The mall is located in the center of Nagoya town.


The mall is low rise one, with rows of shop houses opposite the main mall itself. The design of the row of shophouses is unique. There are 2 anchor tenants – Matahari and Hypermart. These are 2 giant retail stores in Indonesia. So when the stores are there, the shoppers will come.

Hypermart is located at the basement of this mall. Normally I liked to buy food items from Hypermart, because it is cheap and fresh. The store sells everything from food, clothes, medicine to LCD TV and PC. I like the bakery counter because they offer a wide variety of bread and cakes.

There is a Food Street in the Nagoya Hill Shopping Mall itself. If you are entering the mall via its main entrance, the Food Street is on the left and right. Yes, both the left and right corridor of the mall. There are many food outlets.

You can see A&W, KFC and many local food retail outlets. When I see so many food outlets to choose, I have a hard time choosing what to eat. I have to make a choice among so many choices. If you do not fancy the food at the Food Street, there are more food outlets spread across this mall. Just walk and browse, you will find them. I just wonder whether is food such a lucrative business that I see so many of them in the mall.

In the mall, I can see a number of retail stores selling clothing and accessories. I guess young people in Indonesia are also spending more to look good. Perhaps the reason why developers are building more malls is that people love to hang out in the malls rather than in a park or library.

Though Nagoya Hill Shopping Mall is relatively new, the layout of the stores can be improved. I can see merchandise being stacked along the walkways, which makes it untidy and at times difficult to walk.

After shopping, with a lots of shopping bags, you can get a cab/taxi just outside the mall itself. Remember to negotiate the taxi fare before commencing the ride.



Nearest hotel within walking distance:
Nagoya Hill Hotel, Grand i Hotel, Amaris Hotel Nagoya Hill, The Evitel, The Hills, Nagoya Mansion

Nearest hotel by taxi:
Travelodge Batam (Ex Novotel), Harmoni Hotel, Pacific Palace Hotel, Planet Holiday Hotel ~ 10 mins
Golden View Hotel, Golden Bay Hotel ~ 25 mins
Holiday Inn Batam & Harris Resort Waterfront ~ 40 mins
Turi Beach Resort & Batam View Beach Resort ~ 40 mins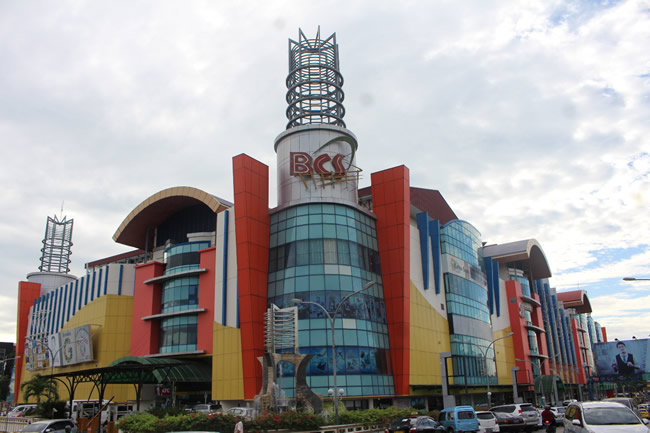 (photo credit facebook @bcsmalll18 )
Batam City Square (BCS) Mall
Batam City Square Mall (BCS Mall) is located in the center of the city, Jl. Bunga Raya, Baloi, Batam – Indonesia. Jalan Bunga Raya is one of the main streets in Batam city with heavy traffic every day. The presence of BCS Mall at the meeting of two roads, namely Jalan Bunga Raya and Jalan Penuin.

Penuin road is a busy trading area dense with activity every day. As of Shopping Centers, Recreation and Entertainment, BCS Mall stood in the middle of a busy commercial locations visited by the city of Batam, even foreign tourists.

BCS Mall in collaboration with major tenants to meet the needs and desires of the city of Batam, the Golden Truly Dept. Store, JC Supermarket, Gramedia Bookstore, KFC, Cinema 21.

In addition, the completeness of the BCS Mall is also met by King Electronics, Bowling, Billyard and Games Centre, which presents a Children's Fantasy World Children Playground, Video Games, Restaurant, Food Court, the Internet Zone, and many more tenants who make the BCS Fashion Mall as one barometer of fashion trends in Batam.


Nearest hotel within walking distance:
Hotel 89, Aston Inn Gideon Hotel, Batam City Hotel, i Hotel Baloi, The BCC Hotel

Nearest Hotel by taxi:
da Vienna Boutique Hotel, Biz Hotel, Beverly Hotel, Planet Holiday Hotel, ~ 10 mins.
Golden View Hotel, Golden Bay Hotel : ~ 20 mins
Turi Beach Resort, Harris Resort Barelang, Montigo Resort ~ 40 mins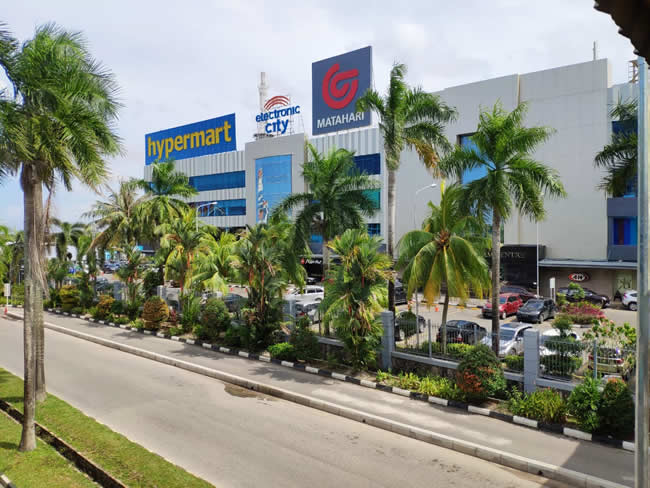 Mega Mall Batam Center
Mega Mall Batam Center is one of the major malls in Batam. This mall is integrated with the Great Mosque Batam Center, Batam Center Ferry Terminal, the mayor's office, the Office of Parliament, office of the Bank of Indonesia and with close proximity to the Batam Authority Office and modern residential complexes Coastarina.
It is strategic location which is in downtown Batam. There are Hypermart and Matahari Department Store and Cinema XXI in this mall. This four-storey mall has a bridge that connected directly with the Batam Center ferry terminal.

Mega Mall Batam Centre is a central business area in Batam Island. Mega Mall shopping center built in the CBD (Central Business District) of Batam Centre, the mall is directly connected by a bridge connecting to the International Ferry Terminal – Batam Centre, which has now reached the capacity of the rotation tourists and businessmen from foreign countries and Singapore approximately ± 300,000 people per month are served by 98 transit trips per day with a ferry to Singapore – Batam Centre – Singapore or equal to 2940 trips per month.

There are many options to do shopping or even just hang out in Mega Mall Batam Center. You can find a lot of fashion shop, toys shop, culinary shop, café etc which offer you with cheap price compare with Singapore. It's real place to do shopping.
Nearest Hotel within walking distance:
Harris Hotel Batam Center , Harmoni One

Nearest Hotel by taxi:
Aston Batam Hotel, Sahid Batam Center Hotel, Lovina Inn Batam Center ~ 10 mins.
Best Western Premier Panbil Hotel, Radisson Hotel, Grand i Hotel, Pacific Palace Hotel ~ 20 mins
Turi Beach Resort, Harris Resort Barelang, Batam View Beach Resort ~ 40 mins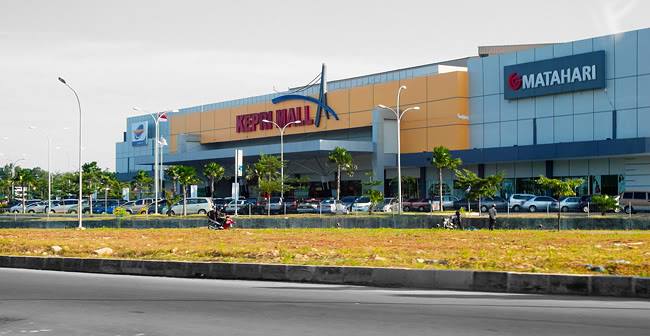 (photo credit facebook Kepri Mall Batam)
Kepri Mall
Kepri Mall is one of the existing shopping center in Batam, Riau Islands. The location is very strategically located amongst the four intersection of road to Mukakuning, the road to Nagoya, Batam Center and to Hang Nadim Airport. It can be said that all of public transport vehicles through the intersection at Kepri Mall Batam.

It is occupying in a vast area with the main tenants such as Carrefour and Matahari Department Store. This mall is perfect for shopping lovers who want to enjoy shopping or culinary. In addition, there are many cafés as a place to hang out or relax with friends. Kepri Mall is one of the main shopping place in Batam that you must visit when traveling in Batam.

Nearest Hotel within walking distance:
Radisson Hotel , Eska Hotel

Nearest Hotel by taxi:
Crown Vista Hotel, Sahid Batam Center Hotel, 89 Hotel, Best Western Premier ~ 10 mins.
Golden View Hotel, Golden Bay Hotel ~ 20 mins
KTM Resort, Harris Resort Waterfront, Holiday Inn Batam Resort, Turi Beach Resort~ 30 mins

Office:
Lima Benua Tour
Jln. Makalam No. 28 Kel. Sungai Asam,
Kec. Pasar Jambi. Indonesia
Tel: 0852 6633 6952 / 0853 6872 6088
Email : welcome2batam@gmail.com


Other Menu